Two days before the Horizon 2020 EDISON project ended an end of project meeting was organized in Amsterdam, Science Park. The Edison project started September 2015 and ends September 2017. EDISON aims to establish the data scientist as a profession. This will be achieved by aligning industry needs with available career paths, and supporting academies in reviewing their curricula with respect to expected profiles, required expertise and professional certification. This will result in a significant increase in the number and quality of data scientists graduating from universities and being trained by other professional education and training institutions in Europe.
One of the deliverables that were presented is the EDISON Data Science Framework.
The EDISON Data Science Framework (EDSF) has been developed to support, guide and ultimately accelerate the education process of fit-for-purpose Data Science Professionals (DSP). And is useful to trainers, education decision makers, employers and employees, policy makers.
Spider Chart
The EDISON project developed also a 'spider chart': to enable the assessment of the competencies of the Data Science practitioner against the target/desirable competence profile matching between the job vacancy and the candidate's competence profile.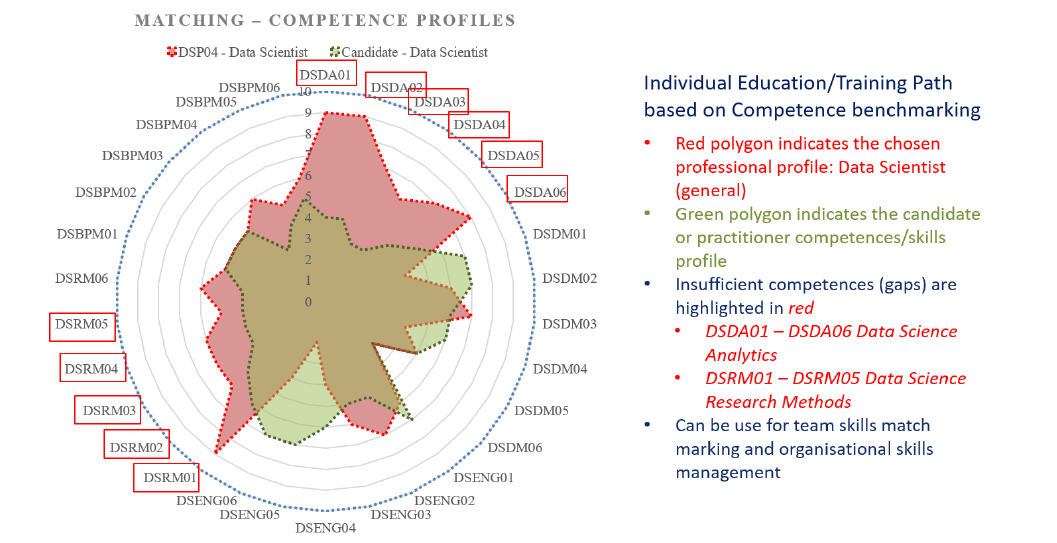 retrieved from: http://edison-project.eu/
What I liked very much is that in the Data Science Professional Profiles a very strong emphasis was put on the soft skills, such as communication,  the capability to solve problems, has a creative mind. These are the competencies data supporters also need, according to Essentials 4 Datasupport.
Science becomes more and more data driven, so in the near future, about 5% of research staff should have more than average knowledge of data science.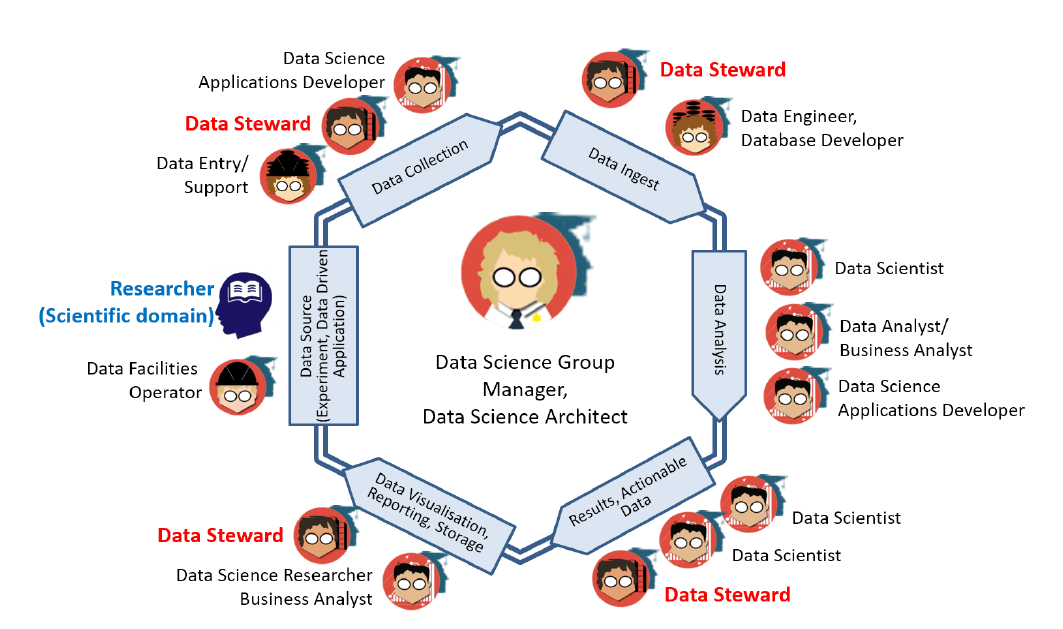 Retrieved from: http://edison-project.eu/
This very nice picture shows what different data professionals are needed during the research process so it will take about 10 -12 data professionals to serve a research group of about 200-300 researchers.
Developments are going fast, that is a great challenge for all of us, working in the field of data science.